GS1 General Specifications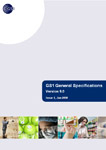 The GS1 General Specifications is the core standards document describing how barcodes and identification keys should be used to comply with GS1 standards. They are used throughout the GS1 System.
Key Questions
Where can I find the GS1 General Specifications?
You can also obtain a copy of the GS1 General Specifications and get support on usage from your local GS1 Member Organisation.
How are the GS1 General Specifications structured?
The main sections are as follows:
Section 1: Basics and Principles of the GS1 System
This section contains the GS1 principles of Open Standards, Differentiation, Transparency, and Non-Significance. Also included are the identification system policies under which the specifications are developed, the technology adoption policies, and the methods by which Sunrise and Sunset Dates are set. Human factors and performance requirements are included in this section.
Section 2: Application Identification
This section contains the Areas of system Application:
1. Trade Items
2. Numbering and Marking of Logistics Units
3. Assets
4. Locations
5. Numbering and Marking of Service Relationships
6. Numbering and Symbol Marking for Special Applications
Section 3: GS1 Application Identifier Definitions
This section contains the definition and data structure for each Application Identifier independent of the Data Carrier.
Section 4: Application Rules
User established application rules for GS1 keys are contained in this section:
Global Trade Item Numbers (GTIN)
Logistics Unit (SSCC)
Global Location Numbers (GLN)
Global Individual Asset Identifier (GIAI)
Global Returnable Asset Identifier (GRAI)
Global Service Relation Number (GSRN)
and Global Document Type Identifier (GDTI)
Section 5: Data Carriers
This section contains the technical specifications and production and quality assessment specifications for GS1 approved data carriers. It contains specifications for each unique application environment.
Section 6: Symbol Placement Guidelines
This section contains package bar code placement guidelines and Label placement for transport, clothing, and fashion accessories.
Section 7: System Processing in EDP Applications
This section contains bar code processing techniques, message structures, and check digit calculations.
Section 8: Glossary
This section contains the GS1 Glossary of Terms and Definitions, Acronyms and Legacy (Retired) terms.