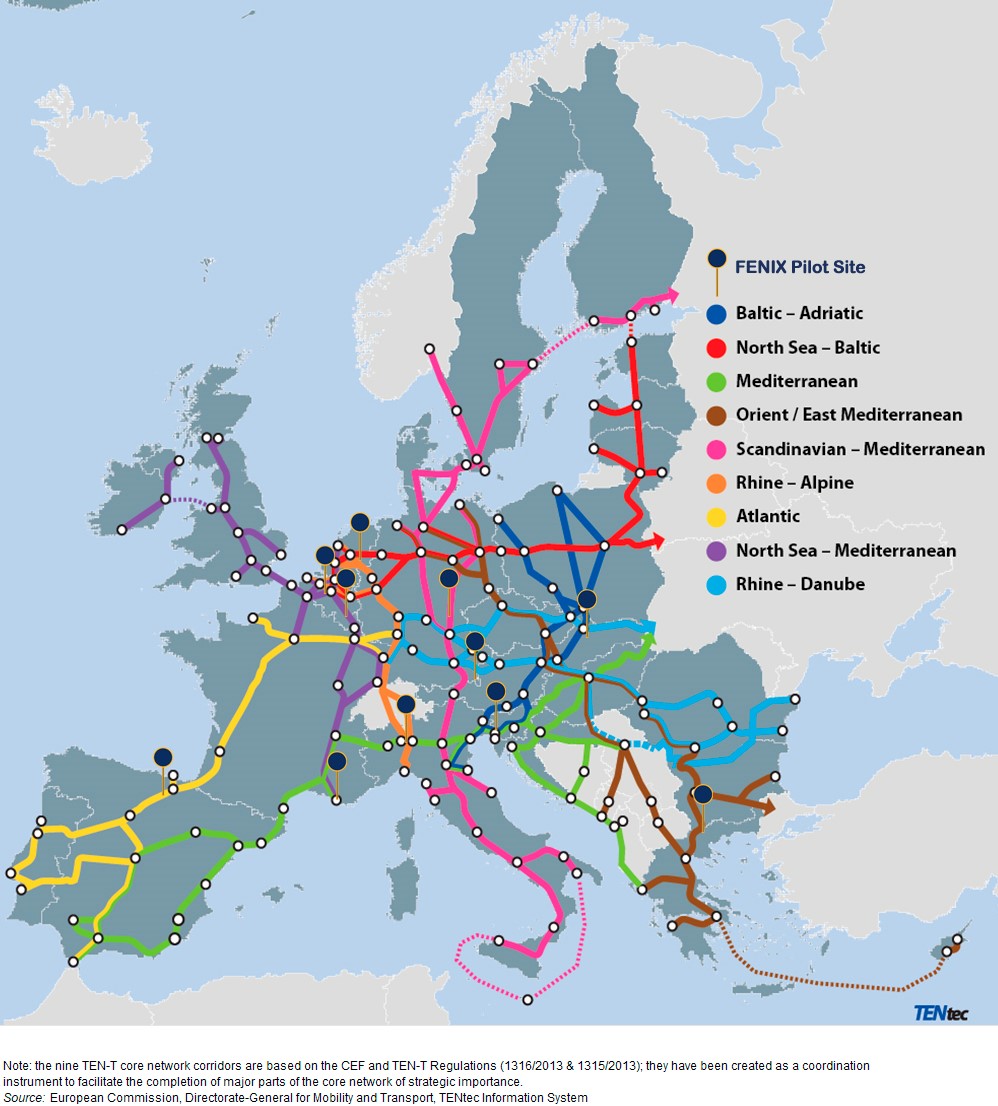 Caption: 11 Fenix pilot sites in 9 countries will implement, test and validate transport and logistics services across all the TEN-T corridors
The EU's funded project FENIX is breaking ground developing the first federated data network to harmonise the exchange of logistics information along the nine major EU transport corridors. Under the leadership of GS1 Germany, six other GS1 organisations, including GS1 Global Office, are responsible for standardisation and interoperability.
Currently, complex systems don't speak the same language
Europe's transport and logistics platforms are significantly fragmented, making information-sharing and coordination very challenging. The lack of interoperable information exchange in the logistics and supply chains is the main barrier preventing greater efficiency and sustainability in transport and logistics processes within the European transport network.
Those working in logistics struggle with countless manual entries, paper shipping documents and time-consuming customs clearance. Within FENIX, supply chains are built upon a wide range of existing standards, but they are generally not well aligned and, therefore, difficult to combine.
EU sponsored project FENIX optimises the interoperability of European logistics platforms
The European funding programme CEF (Connecting Europe Facility) supports the European FEderated Network of Information eXchange in LogistiX (FENIX) with funding totalling €30 million. The project will ensure maximum interoperability between existing and new logistics information systems, resulting in a federated information exchange network. This will enable different digital platforms to connect smoothly and to harmonise the services that they offer, resulting in optimised transport operations all around Europe.
The solid European reach of GS1 is greatly contributing to this project by increasing standardisation and interoperability across the FENIX consortium.
"GS1 global language of business can help connecting complex systems to each other in smart ways and turn data into valuable information. For Europe's transport and logistics sector, this is badly needed, and I am glad we will help businesses be more efficient and sustainable, for the ultimate benefit of consumers and the planet itself", said GS1 project lead Sandra Wagner.
Zharko Vasilevski, Project Manager from Mondel?z Load Control Centre added: "GS1 standards are playing an important role in the FENIX innovation to foster interoperability in the Mondel?z pilot site with the scope to interconnect seamlessly with other logistics and transport actors across Europe."
Access here the full press release.