Improving supply chain management at Dijon University Hospital, France
Dijon University Hospital has taken steps to ensure greater supply chain security and efficiency by implementing GS1 barcodes. Improvement of the distribution of medical products from the warehouse to the patient has been achieved.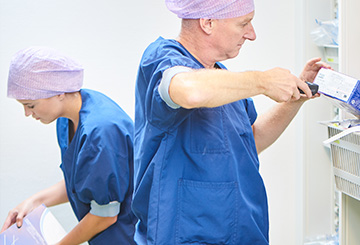 fall in on-hand stock held
The context
Dijon set up a logistics platform to manage the internal traceability of medicines and medical devices. All this data ensures that deliveries are completely tracked from the logistic platform to the care units, that the restocking frequency is monitored, that products are available when needed and that targeted batch recalls can be carried out as efficiently as possible.
GS1 barcodes have helped to enable Dijon University Hospital to work more efficiently, increase traceability and save time. All of which add up to improved patient care.
Healthcare Provider Database
Explore a comprehensive database of case studies from healthcare provider implementations of GS1 barcodes.
GS1 Healthcare Provider Awards
These awards recognise outstanding implementation of GS1 barcodes by healthcare providers, organisations and individuals.
Healthcare Provider Advisory Council (HPAC)
Collaborate with healthcare provider peers via the HPAC. Participate in webinars and industry awards.
FAQs
Find answers to some of the questions most frequently asked about GS1 barcodes by healthcare providers.