News
Standards are final
The Global Data Synchronisation Network (GDSN) 3.1 standards are finalised, there will be no more changes to the May 2016 deployment moving forward.
Major Release proceeding as planned
GS1 Management and GDSN key stakeholders reiterated their commitment to migrating from GDSN version 2.8 to 3.1 in May 2016. The community supported creating a set of metrics to monitor the migration activities of Data Pools and Trading Partners during the 6 May to 12 May 2016 migration week.
The metrics will be a combination of Data Pool technical readiness and Trading Partner community preparedness that monitors the percentages of the community that are able to resume Data Synchronisation during the migration period. The percentages will act as a gauge to monitor the migration so the community can "Proceed" together. Daily calls with the Data Pools and Community during the migration week will track in real time the community and their ability to migrate and restart the network on 12 May 2016.
Individual Trading Partners will need to work with their Solution Providers and GDSN Certified Data Pools to develop contingency plans if they will be delayed past the 12 May date. All Trading Partners should perform their own risk analysis with the Change Management tool developed by the community. Click Here to Access the Tool
Third party solutions to be updated
Global Data Synchronisation Network (GDSN) enabled solutions in the marketplace will need to be updated in order to be compatible with GDSN Version 3.1 which will launch in May 2016. It is imperative that your solution(s) be GDSN Version 3.1 enabled to properly synchronise data via the GDSN. This version contains non-backwards compatible changes.  This means all solutions need to be updated in order to continue synchronizing product information via the GDSN. Work directly with your solution provider to be sure your solution in GDSN version 3.1 enabled
View the GDSN Global webinar from 1st October
Thank you for attenting our GDSN Major Release Global Webinar, which gathered more than 200 participants!. The presentation is available here.
GDSN User Group meeting in Warsaw
Several topics were discussed at the User Group meeting in Warsaw (Poland), the community will be engaged for review of recommendations and suggestions coming out of the meeting.
If you have any questions regarding the GDSN Major Release, contact us at GDSN@gs1.org. We will direct your questions to the appropriate expert. 
GDSN Major Release 3.1 Milestones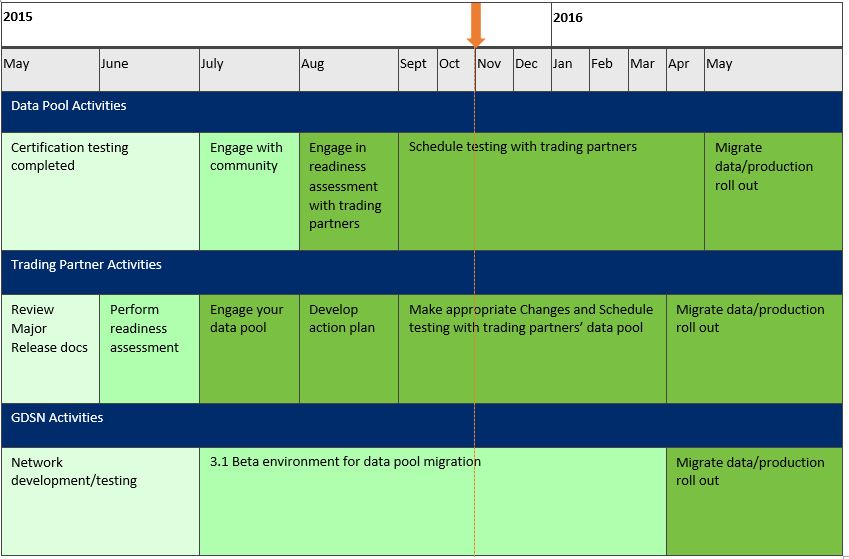 Key Milestones 
Above you can find the high level activities that the community should be tracking for the Major Release. The activities above are not definitive but just a recommendation that can be followed, please work directly with your Data Pool for specific milestones for your company.
Data Pool/Date Pool Solution Provider Activities
Data Pools should currently be developing Migration Documentation for Trading and Solution Providers.
Trading Partners Activities
Trading Partners should currently be working with their Data Pools/Data Pool Solution Providers to Schedule Testing.
GDSN Activities
GDSN has launched the 3.1 Beta Environment for Data Pools to begin testing with their communities.
For more information about the GDSN Major Release go to: GDSN Major Release website.
Publications
End of the Month Publications for GDSN Migration Documents
GDSN Major Release Migration Documentation will be updated as changes occur and will be published to the website at the end of each month. This section of the community announcement will reflect the documents that have been updated and posted to the website along with any upcoming publications.
The following documents were posted to the website end of  October. To view the document, please click th document name below:
For additional documents related to the Major Release visit our website at https://www.gs1.org/gdsn/data-migration
Reminders
Migration Documentation can be accessed here. All document reflect the latest version based on their publication date.
The Globally Managed Data Standards Maintenance Group (GDS SMG) weekly conference call is every Tuesday from 9:00 – 11:00 it is dedicated as the forum for discussion and resolution of these questions. Please join!
We are on Twitter! For recent news and topics join us on twitter @GS1_GDSN