Ensuring surgical instrument traceability at Robert Ballanger Hospital, France
Robert Ballanger Hospital implemented our barcodes to help uniquely identify and trace surgical instruments from the patient through the sterilisation process.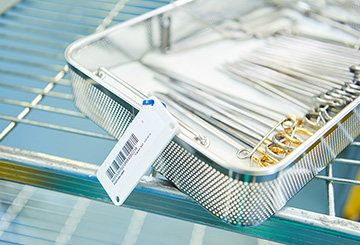 fall in surgical kit error
The context
By implementing GS1 barcodes with serialised product identifiers engraved onto surgical instruments, Robert Ballanger ensured that they could identify the instruments that were used on each patient, essential for infection control. In addition, they were able to increase the accuracy of their surgical kits and enable combined processing of instruments from two hospitals.
Robert Ballanger enabled increased visibility and accuracy of traceability of surgical instruments to the patient through their implementation of GS1 barcodes. This visibility helps the hospital identify which instruments have been used for which patients, and ensures packing of accurate instrument kits. 
Healthcare Provider Database
Explore a comprehensive database of case studies from healthcare provider implementations of GS1 barcodes.
GS1 Healthcare Provider Awards
These awards recognise outstanding implementation of GS1 barcodes by healthcare providers, organisations and individuals.
Healthcare Provider Advisory Council (HPAC)
Collaborate with healthcare provider peers via the HPAC. Participate in webinars and industry awards.
FAQs
Find answers to some of the questions most frequently asked about GS1 barcodes by healthcare providers.