Don't miss out the IHF World Hospital Congress – GS1 Healthcare session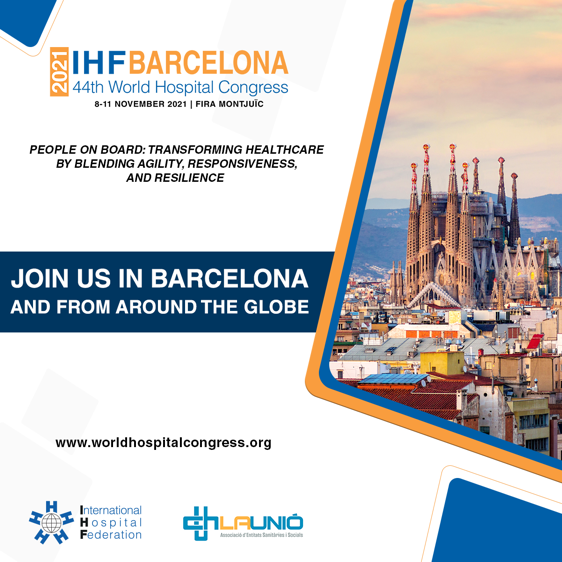 World Hospital Congress will be held in Barcelona (Spain) as well as online from 8 to 11 November 2021.
It offers 50+ sessions covering people, value and technology driven transformations that make us more agile, responsive, and resilient.
There will be keynotes, panel discussions, concurrent sessions, oral presentations, posters, the IHF Awards, hospital visits, networking opportunities, social activities, and an industry exhibition.
During the event, GS1 Healthcare will host a parallel session on In digital transformation, GS1 standards in action follow products to patients.
Speakers: Els van der Wilden-van Lier / Maria Ramirez / Henrik Stilling / Maria Blanco
Healthcare entered a new era with digital transformation introducing changes and opportunities, the pandemic pushing the change. In many countries medical products are barcoded by the manufacturer, but not yet scanned in the hospital. Barcode scanning however supports full (global) product traceability, reduces manual registration procedures, reduces the risk of errors, facilitates recall-procedures, and facilitates final automated check at the point-of-care. The then available data support rationalizing assortments, real-time locating assets, saving costs, and a possible reduction in variance of patient related outcomes. GS1 standards in action help follow products to patients. Presenters from Denmark and Spain will share how the use of GS1 standards supports their work in a hospital and health system. Some learning objectives are how digital innovations in the healthcare supply chain support cost savings, enhance patient safety and full traceability of medical products; how these rationalize procurement and asset-management, also linking to experiences during the COVID-pandemic. Chaired by: Dr. Els van der Wilden-van Lier, Director Healthcare Providers, GS1 AISBL