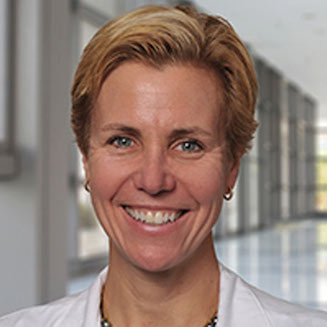 Dr. Moffatt-Bruce is cardiothoracic surgeon and the Chief Quality and Patient Safety Officer at the Ohio State University Medical Center. She completed her undergraduate degree at McGill and her medical school and General Surgery residency at Dalhousie University. Dr. Moffatt-Bruce spent three years at the University of Cambridge where she completed her Doctor of Philosophy in Transplant Immunology. She completed her Cardiothoracic Surgery fellowship at Stanford University with additional training in thoracic transplantation. She was staff at the University of British Columbia for two years, before being recruited to OSUMC.
Over the past eight years at OSUMC she has developed a passion for Quality and Patient Safety initiatives. She has been trained at Intermountain Healthcare, the Institute for Healthcare Improvement and is a Blackbelt in Six Sigma. She has recently completed her Master's of Business in Operational Excellence at the Fisher School of Business. As the Chief Quality and Patient Safety Officer she is responsible for data collection, analysis and process improvement for a 6 hospital, 1100 bed, 1200 physician academic medical center.
Dr. Moffatt-Bruce's current academic appointments include Associate Professor of Surgery, Division of Thoracic Surgery, Department of Surgery, Associate Professor, Department of Molecular Biology, Immunology and Medical Genetics. She was recently appointed as the Associate Dean of Clinical Affairs, Quality and Patient Safety. Since becoming the Chief Quality and Patient Safety Officer at the Ohio State University Medical Center in 2010, she has been responsible for the implementation of the Safe Surgical Checklist and Crew Resource Management across the entire medical center. Additionally she has been responsible for standardizing processes that have led to significant reductions in central line infections, pressure ulcers and ventilator associated pneumonia. With the newest introduction of an integrated electronic medical record, she has worked to reduce medication safety events and has led the organization to be very successful in the CMS Value Based Purchasing program.
In 2012-2013, Dr. Moffatt-Bruce helped to lead OSUMC to 8th in the UHC Leadership and Quality rankings. Additionally, in 2013, she helped to facilitate a 16% reduction in All-Cause Readmissions which was the highest reduction for any of the UHC medical systems. She has designed a curriculum for medical students around Quality, Patient Safety and High reliability and has recently organized a multi-professional Resident Quality Forum, allowing residents to identify and solve patient safety issues.