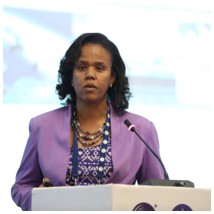 Since 2018, Ms. Heran Gerba is Director General of the Ethiopian Food and Drug Authority (EFDA), previously the Ethiopian Food, Medicine and Healthcare Administration and Control Authority (EFMHACA). Heran has worked for the Authority since 2003, taking up different roles, including Chief Pharmacist for the Quality Control Laboratory and Acting Head of the Physicochemical Division.
Before taking up the role as Director General, she was Deputy Director General for four years.
Ms. Heran Gerba has a Master's degree in Pharmaceutical Analysis & Quality Assurance from the Addis Ababa University School of Pharmacy.