GS1 Logistic Label Guideline
Provides an overview of the normative rules and best practice recommendations based on GS1 Logistic Label implementations around the world.
Release 1.3, Ratified, Jul 2019
1 Introduction
The GS1 System is the most widely used supply chain standards system in the world and comprises the standards, guidelines, solutions and services created in formalised and collaborative processes.
The Transport & Logistics industry involves the movement of goods using multiple transport modes, including road, rail, air and maritime. T&L processes involve a wide variety of parties such as consignor and consignee, freight forwarders and carriers as well as official bodies like customs and port authorities. The often complex logistics flows and the variety of involved parties imply there is a need for easy physical identification of logistic units. GS1 offers a standard to help accomplish this: The GS1 Logistic Label.

This guideline provides guidance on how to physically identify logistic units using the GS1 Logistic Label. It is based on the GS1 Standards described in the GS1 General Specifications, and on best practices gathered in various implementation projects around the world.
1.1 Acknowledgements

1.2 Scope of the guideline

1.3 Conventions applied in the guideline
2 Lay-out of the label
This chapter introduces the lay-out of the GS1 Logistic Label. For the technical rules see section 6 .
2.1 Introduction

2.2 Building blocks

2.3 Segments
3 How to identify the logistic unit
3.1 SSCC

3.2 Including the SSCC on the label

3.3 Extract of GS1 Application Identifiers for logistic unit identification
4 How to include trade item information
4.1 When would I use this?

4.2 Trade item identification

4.3 Identification of pieces of a trade item

4.4 Count of contained trade items

4.5 Trade item measures

4.6 Trade item dates

4.7 Batch / lot number

4.8 Serial numbers

4.9 Extract of main GS1 Application Identifiers for trade item information
5 How to include transport and customer information
5.1 When would I use this?

5.2 Customer (Receiver) name and address

5.3 Supplier (Shipper) name and address

5.4 Routing code

5.5 Ship for location / ultimate consignee

5.6 Shipment identification

5.7 Consignment identification

5.8 Customer's purchase order number

5.9 Logistic measures

5.10 Handling and processing instructions

5.11 Extract of GS1 Application Identifiers for transport and customer information
6 Label lay-out rules
6.1 Top building block

6.2 Middle building block

6.3 Bottom building block

6.4 Rules related to label segments
7 Size of the GS1 Logistic Label
The label may be any size. Factors influencing label dimensions include the amount of data required, the X-dimension of the barcodes used, and the dimensions of the logistic unit to be labelled. The business requirements for most users of GS1 Logistic Labels are met by using one of following:
A. Compact label
■ A6 (105 mm x 148 mm) or 4 x 6 inch, which is particularly suitable when only the SSCC, or the SSCC and limited additional data, is encoded.
Figure 7‑1 dimensions A6 / 4 x 6 inch label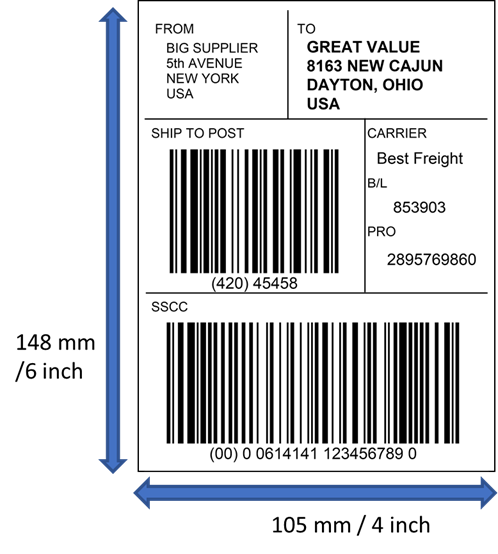 B. Large label
■ A5 (148 mm x 210 mm) or 6 x 8 inch, suitable when additional data such as trade item data are needed. Applied for example on pallet labels.
Figure 7‑2 dimensions of A5 / 6 x 8 inch label
C. Other size labels
■ Other label dimensions are typically variations driven by data requirements or logistic unit size.
8 Label placement
8.1 Label placement on larger logistic units (pallets, roll cages, etc.)

8.2 Label placement on smaller logistic units (including parcels)

8.3 Label placement on stacked pallets
9 Implementation considerations
9.1 Best practice processes by role

9.2 Label implementation scenarios

9.3 Shipper / Supplier

9.4 Carrier

9.5 Receiver / Customer
10 Practical examples
10.1 SSCC-only label

10.2 GS1 Logistic Label for homogeneous logistic unit

10.3 GS1 Logistic Label for homogeneous logistic unit with variable measure items

10.4 GS1 Logistic Label for orderable pallet

10.5 GS1 Logistic Label for logistic unit that is a single trade item

10.6 GS1 Logistic Label for mixed pallet

10.7 GS1 Logistic Label with logistic unit and transport information in separate segments

10.8 GS1 Logistic Label with supplier, customer and transport segments

10.9 GS1 Logistic Label with transport information including postal code

10.10 GS1 Logistic Label with transport information including routing code and GINC

10.11 GS1 Logistic Label for parcel (SSCC-only)

10.12 GS1 Logistic Label for parcel (including routing code)

10.13 GS1 Logistic Label for parcel (including a GS1 2D barcode)

10.14 GS1 Logistic Label with identification of individual trade item piece - AI (8006)
11 References
■ [CHECK] https://www.gs1.org/check-digit-calculator
■ [GENSPECS] GS1 General Specifications - version 19, GS1 2019
■ [TLKEYS] GS1 Identification Keys in Transport & Logistics, GS1 2013
https://www.gs1.org/docs/tl/T_L_Keys_Implementation_Guideline.pdf
■ [1DVER] GS1 Barcode Verification Process (implementation guide), GS1 2015
■ [HPARCEL] Postal services - Interfaces for cross border parcels, CEN 2017
■ [ELL] GS1 in Europe Logistic Label version 14, GS1 in Europe 2007
■ [STILL] Standard International Logistic Label (STILL), GS1 2007

Important: The information contained in the STILL guideline has been incorporated in the new GS1 Logistic Label Guideline. The STILL guideline will no longer be updated.
A Appendix A - GS1 Logistic Label verification
This section provides a brief summary of the GS1 Logistic Label verification procedures as applied by GS1 Member Organisations in order to assess the quality of logistic labels.
Note: Verification of the GS1-128 symbol is not described in this section. Please refer to the Barcode Verification Process - Implementation Guide [1DVER] for guidance on this topic.
Logistic label verification aims at checking the label's compatibility with the GS1 standards and guidelines. Verification helps to ensure that GS1 Logistic Label implementations comply with the GS1 System, and result in logistic labels that can be used by all supply chain partners.
Verification should be an integral part of quality control processes. It should be performed during initial implementation and repeated at regular intervals once operational.
Verification can be performed by GS1 Member Organisations or by companies authorised by GS1 to issue such verification. In case of a problem, standard verification reports should be used to communicate the source of the problem.
A.2 Common verification approach
To ensure a common logistic label verification approach a standard verification procedure is needed. This will guarantee similar results regardless of where the symbols are tested. This section aims at highlighting critical issues relating to verification.
The visual assessment includes:
■ the dimension of the label
■ the correct placement of segments and building blocks
■ correct languages of data titles applied
■ correct data titles in the middle part for encoded information
■ Are there any lines through the barcodes or speckles?
■ Is the barcode at least 31.75 mm / 1.250" high?
■ Is there sufficient space on either side of the barcode?
Data content verification includes:
■ GS1 Company Prefix (or prefixes applied)
■ GS1 identification keys applied (e.g. GTIN, SSCC)
■ check digits of all GS1 identification keys applied (e.g. GTIN, SSCC)
■ Applied GS1 Application Identifiers and their structure
Verification of technical parameters includes all the checks for GS1-128 symbols as defined in the [1DVER] guide, and additionally:
■ correct combinations of data elements, mandatory association of data elements (e.g. AI (02) and AI (37))
■ correct structure of data elements
■ correct check digits of GS1 identification keys (e.g. GTIN, SSCC) presented in the barcode symbol.
Note: In case barcode symbols other than GS1-128 are present on the label, in addition to GS1-128 symbols holding the SSCC and other attributes, the verification report will only address the correctness of the GS1-128 symbols and data contained therein. The verification report SHOULD include a warning that non-allowed GS1 symbols or non-GS1 symbols have been detected.
Verification reports should include:
■ the list of parameters that were verified
■ information on whether a given parameter complies with GS1 requirements
■ in case of a negative assessment - information on correct data and recommendations on how to avoid mistakes
■ A copy of the verified label should be attached to the report.
Contributors & Change Log
Contributors
| First Name | Last Name | Company |
| --- | --- | --- |
| Alejandra | Montes de Oca | GS1 Mexico |
| Amber | Walls | GS1 US |
| Bo | Bäckstr\F6m | Axfood Sverige AB |
| Bonnie | Ryan | GS1 Australia |
| Christine | Chang | 3M Healthcare |
| Cyndi | Poetker | Abbott |
| Dan | Mullen | GS1 Global Office |
| Daniel | Mueller-Sauter | GS1 Switzerland |
| David | Buckley | GS1 Global Office |
| Denis | O'Brien | GS1 Ireland |
| Don | Roskowiak | Target Corporation |
| Ed | Jesus | Chep |
| Eugen | Sehorz | GS1 Austria |
| Gary | Hartley | GS1 New Zealand |
| George | Sarantavgas | GS1 Association Greece |
| George | Wright IV | Product Identification & Processing Systems |
| Gerald | Gruber | GS1 Austria |
| Giada | Necci | GS1 Italy |
| Ginger | Green | Wal-Mart Stores, Inc. |
| Glyn | Fogell | Shoprite Checkers |
| Heide | Buhl | GS1 Germany |
| Heinz | Graf | GS1 Switzerland |
| Hirokazu | Nagai | Japan Pallet Rental Corporation |
| Holger | Strietholt | Schweizerische Bundesbahnen SBB |
| Ildik\F3 | Lieber | GS1 Hungary |
| Ilka | Machemer | GS1 Germany |
| Jaco | Voorspuij | GS1 Global Office |
| Jane | Wulff | GS1 Denmark |
| Jean-Christophe | Gilbert | GS1 France |
| Jeanne | Duckett | Avery Dennison RFID |
| Jeffrey | Cree | Ahold (USA) |
| John | Terwilliger | Abbott |
| John | Pearce | Axicon Auto ID Ltd |
| John | Ryu | GS1 Global Office |
| Jonas | Buskenfried | GS1 Sweden |
| Kai | Hachmann | Edeka Zentrale AG & Co. KG |
| Karen | Arkesteyn | GS1 Belgium & Luxembourg |
| Karolin | Harsanji | GS1 Sweden |
| Kevin | Dean | GS1 Canada |
| Kimmo | Keravuori | GS1 Finland |
| Linda | Vezzani | GS1 Italy |
| Luiz | Costa | GS1 Brasil |
| Madalena | Centeno | GS1 Portugal |
| Margarita | Bykova | GS1 Russia |
| Margarita | Bykova | GS1 Russia |
| Marianna | Revallova | GS1 Slovakia |
| Marie | Vans | HP Inc. |
| Martin | Kairu | GS1 South Africa |
| Michiel | Ruighaver | GS1 Australia |
| Mike | Soper | Symbology, Inc. |
| Mike | Durning | Wakefern Food Corporation |
| Neil | Piper | GS1 UK |
| Owen | Dance | GS1 New Zealand |
| Raman | Chhima | GS1 New Zealand |
| Raymond | Delnicki | GS1 US |
| Richard | Fisher | DoD Logistics AIT Standards Office |
| Sabine | Klaeser | GS1 Germany |
| Sarina | Pielaat | GS1 Netherlands |
| Sean | Dennison | GS1 Ireland |
| Shawn | Chen | GS1 Thailand |
| Stefanie | De Rocker | GS1 Belgium & Luxembourg |
| Stephan | Wijnker | GS1 Australia |
| Steven | Robba | 1WorldSync, Inc. |
| Steven | Simske | Colorado State University |
| Steven | Keddie | GS1 Global Office |
| Sue | Schmid | GS1 Australia |
| Szilvia | Bém | GS1 Hungary |
| Terje | Menkerud | GS1 Norway |
| Vera | Feuerstein | Nestlé |
| Xavier | Barras | GS1 France |
| Yoshihiko | Iwasaki | GS1 Japan |
| Yuko | Shimizu | GS1 Japan |
| Zbigniew | Rusinek | GS1 Poland |
| Zubair | Nazir | GS1 Canada |
Log of Changes
Release

Date of Change

Changed By

Summary of Change

1.0

30-Apr-2014

Coen Janssen

* Initial version

1.1

Aug 2016

Coen Janssen

* Work request 15-335:
added rule [4-15],
updated intro of section 5.5,
updated rule [5-16],
added rule [6-22],
updated intro of section 9.3.4,
updated rule [9-15]

* Updated references to GS1 General Specification to align with latest version.

1.2

Sep 2017

Coen Janssen

Work request 17-104 harmonised parcel label:

* Updated section 5.4 Routing code

* Added 2 new examples: see sections 10.11 and 10.12

* Added a note in Appendix B on the way to handle verification of labels that include GS1 and non-GS1 barcodes.

Work request 17-144 multi-pallet trade items:

* Added new section 4.3

* Updates to sections 4.6, 4.7 and 4.8

* Added new section 10.13

Errata:

* Updated figure 2-1 Example of building blocks

* Updated example in section 10.4 Orderable pallet

* Updated appendix B - symbol heights

* Some updates to WR 17-144 based on the outcomes of WR16-534 (Shoes).

1.3

Jul 2019

Daniel Mullen

* Work request 18-160 2D for Logistic Label:

* Work request 18-260 Logistic Label placement:

* Work request 18-270 2D without 1D for Healthcare

* Work request 18-353 Logistic Label Guideline