GS1 Healthcare News - October 2014
Table of content
News from around the world
Wholesalers unite to bring global standards to Australia's medicine supply chain
Australia's Community Service Obligation (CSO) wholesalers – Symbion, Sigma, API and National Pharmacies – have set aside their competitive differences to implement a common, central source for all medicine supply chain product information under the framework of global GS1 Standards.
In the first stage of the project, information about all the products offered by the CSO wholesalers will be brought into a single secure GS1net database managed by GS1 Australia to help create a smarter, safer and more secure supply chain.
The initiative – driven by the National Pharmaceutical Services Association (NPSA), which represents the CSO wholesalers – will deliver a wide range of benefits including:
Enhanced supply chain security: through use of unique Global Trade Item Number (GTIN) identification encoded in GS1 BarCodes, product identification will be more robust and traceable than ever before, safeguarding against counterfeiting, assisting with management of medicine shortfalls and enhancing the ability for recalls (through GS1 Recallnet).
Accessible data: by ensuring consistent product data and unambiguous identification of products, the NPSA initiatives will provide a single quality-controlled, paperless, data-rich environment for utilisation by pharmacists and the consumer.
Patient-oriented: scanning at the point of dispense not only reduces errors but will enable pharmacists to record full product details – potentially including brand, batch, expiration etc. – giving the ability to load information into the patient record and assist in medication management.
NPSA President Patrick Davies said the move to global GS1 Standards would bring the pharmacy industry into line with international trends and advances in Australia's hospital supply chain system.
"As wholesalers, we are committed to creating a smarter, safer and more secure supply chain system for medicines in Australia, continually investing in new technologies and initiatives to further underpin the commitment we all make as signatories to the Community Service Obligation," Mr Davies said.
For more information, click here
Global Standards help reduce hospitals' and pharmacies' costs and fight counterfeiting in Portugal
Following the McKinsey study, "Strength in Unity: the promise of global standards in healthcare", GS1 Portugal set out to analyse the local situation with the consultancy firm Augusto Mateus e Associados. Augusto Mateus' study, entitled "Impactos da adoção de standards globais na cadeia de valor da saúde em Portugal" (Impacts of the adoption of global standards in the Portuguese Healthcare value chain) estimates potential savings of 561 million € for the Portuguese healthcare industry (without serialisation) to 791 million € (with serialisation) in the 10 next years by adopting global standards.
The study also estimates that hospitals could save on average 4,4 million Euros by adopting global standards, without serialisation, while pharmacies could obtain, accumulated potential savings of 129 million Euros, followed by wholesalers, 99 million, the pharmaceutical industry, 68 million, and the medical device industry, 60 million Euros.
Augusto Mateus added that the adoption of standards would allow greater efficiency and sustainability for the sector and would effectively help fight against falsification and counterfeiting of medicine and medical devices.
"The study presented by the team of Professor Augusto Mateus shows the multiple advantages of global standards in a sector that deals with human lives, such as: greater patient security, better integration and communication between the different players in the value chain, and wider and better control by the sanitary and regulatory authorities", sustains João de Castro Guimarães, CEO of GS1 Portugal.
The authors of the study advise that global standards ought to be adopted gradually by focusing first on implementing lot number and expiration dates in GS1 BarCodes on all healthcare products.
GS1 Healthcare updates
1 million healthcare items in the Global Registry
The GS1 Global Registry® has reached 15 million product items last September! The GS1 Global Registry is a directory operated by GS1 that allows companies to synchronise standardised product data with trading partners worldwide. It is one of the most essential tools within the GS1 Global Data Synchronisation Network (GDSN®), which provides a powerful environment for secure and continuous synchronisation of accurate data between businesses. GS1 has also seen an increase of use of global data synchronisation in the healthcare sector with over 1 million items in the Global Registry, mainly for medical devices, in the frame of the U.S. FDA Unique Device Identification rule. Many global data synchronisation users are now implementing GS1 Standards in new ways, such as in regulatory registration compliance.
For more information, click here
GS1 Portugal organises healthcare seminar
The seminar entitled "Efficiency, Sustainability and Safety in Healthcare" took place on 5 June 2014 in Lisbon. On this occasion, Augusto Mateus & Associados presented their case study "Global Standards in Portugal". Many other speakers took the stage such as Erik Larsen from McKinsey & Company who presented their study "Strength in Unity: the promise of global standards in healthcare", Jenny Gough, Eucomed, who provided the latest updates on the UDI initiatives from the EU member state level, and Feargal Mc Groarty from St. James's Hospital who shared how they implemented GS1 Standards in their Irish haemophilia project.
For more information, visit GS1 Portugal's website: http://gs1pt.org/comunicacao/default/4/174/seminario-internacional-eficiencia-sustentabi/
GS1 Germany opens new knowledge centre with specific healthcare section
The extended GS1 Germany Knowledge Centre is now officially open. The knowledge Centre is an attractive environment where industry-specific components are showcased in some real-world applications and visitors experience for themselves how different parts of the GS1 System work in practice. The facility is located at the company's premises in Cologne.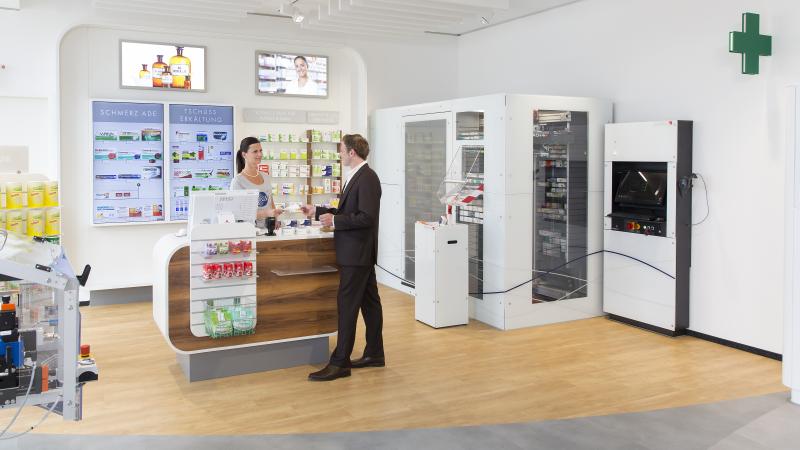 The healthcare showcase illustrates the patient pathway and displays in a realistic way how GS1 Standards can contribute to better patient safety and process optimisation. Models demonstrate the use of GS1 Standards for efficient management of sterile goods, on patient wristbands and for anti-counterfeiting measures of pharmaceuticals.
For more information, click here
GS1 Singapore organises healthcare forum focused on UDI
GS1 Singapore organised in September a conference on the theme Improving Patient Safety and Healthcare Efficiency by Implementing Unique Device Identification. The GS1 Singapore healthcare forum was aimed at providing a good platform for participants to acquire understanding on the importance of global GS1 Standards. The forum featured a strong line-up of speakers on various topics. Ms. Ulrike Kreysa, Vice-President Healthcare, GS1 Global Office, was present as the Keynote Speaker. She gave a detailed presentation on Unique Device Identification (UDI), its benefits and its implications for stakeholders. From her presentation, the participants learnt about the advantages of implementing a global UDI system for traceability and post-market surveillance. The participants also gained a better understanding of how GS1 Standards are making UDI a reality.
The forum attracted more than 100 representatives from public and private healthcare organisations for an exchange of expertise and industry knowledge, with the common goal of improving the efficiency of healthcare services and quality of patient safety in Singapore. Attendees' profiles included leading medical device distributors, manufacturers, brand owners, quality & regulatory affairs executives, and professionals from hospitals and healthcare organisations. Representatives from the Government Agencies namely, the Ministry of Health Holdings, the National Healthcare Group and the Health Sciences Authority were also present at the forum.
"The forum has been very informative. GS1 is at the forefront when it comes to track and trace capabilities. Adoption of UDI has been picking up speed and it will be worldwide implementation at some point in the future. Hence, it is good to learn more about UDI," said Mr. Roger Chan, Account Director of NCS Pte Ltd.
Upcoming events
Global GS1 Healthcare Conference
Join us in Copenhagen, 21 - 23 October 2014 for the 26th Global GS1 Healthcare Conference.
Only a few seats left - register today!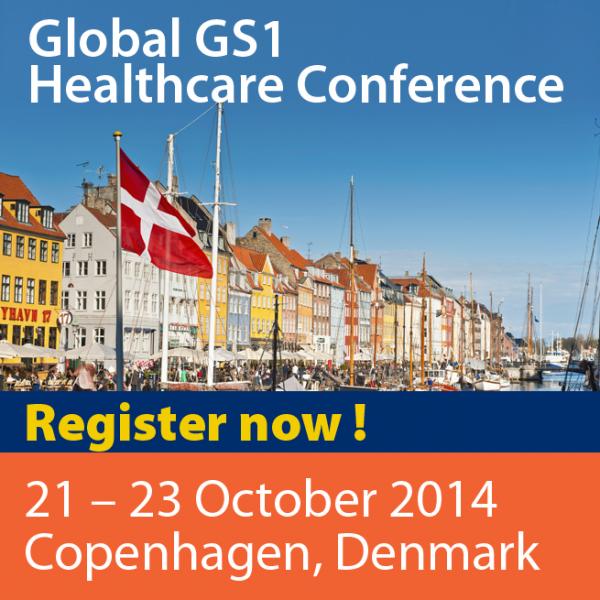 The three-day conference includes plenary sessions, implementation reality sessions focused on GS1 Standards implementations, ask the experts sessions, working lunches on public policy and hospital implementations, and last but not least the opportunity to participate in one of the six site visits available!
Many top speakers have already confirmed:
Mr. Nick Hækkerup,The Danish Minister of Health
Lord Philip Hunt and Andy McKinn present the new NHS eProcurement Strategy in the UK
Eric van Ark and Justin Bitter, from Bernhoven hospital (NL), share their experience on how to implement traceability in a hospital
Jay Crowley, former U.S. FDA, shares his analysis on the first UDI rule deadline and beyond
LIF (Association of research based pharmaceutical industry in Sweden) explains their way from Nordic Trade Item Numbers to Global Trade Item Numbers
The European Association of Hospital Pharmacists will share the importance of identification of products on lower packaging level to enable bedside scanning
and many more...
To find out more and view the whole programme, visit our dedicated webpage.
*****************************
HPAC webinars
Since February 2014, the Healthcare Provider Advisory Council organises monthly webinars every second Thursday of the month. During the webinars, key speakers talk about their experience with implementing GS1 Standards in their care giving environment (hospital, hospital pharmacy...). Participants can ask questions to get live answers to all their inquiries.
The next HPAC webinar will take place:
************************************
UDI Conference
As an educational authority on UDI, the 6th annual UDI Conference will continue to bring industry stakeholders together with the FDA UDI Team Leads to ensure accurate UDI implementation and continued adoption momentum. The UDI Conference is THE annual industry gathering for medical device manufacturers, distributors, and hospitals to convene to learn about the UDI Regulation and the Global UDI Database (GUDID).
Attend the conference to:
The UDI Conference allows you to interact directly with the FDA UDI team, investigate UDI technology in the exhibit hall, plan your migration path, and network with peers in the healthcare industry in one place, at one time. To secure your seat at the best price, register by 5 September. Enter "GS1G" in the promotional code field to automatically save $100. Team registrations are encouraged. If 2 or more from the same company are planning to attend, contact nicole@clariongroupinc.com to receive a discount code.
Register today at http://udiconference.com/register.html
**********************************
Event-based traceability
To enable Event Based Traceability, a GSMP Mission Specific Work Group is developing EPCIS related standards for Security, Choreography and Checking Services. View the latest videos and webinar available to find out more.
Are you a solution provider?
Participate in the standards development, prototypes, piloting and commercially supply Event Based Traceability (EBT) compliant solutions - Get involved now!
Thursday 13 November
8:30-9:30 East Coast U.S. Time / 13:30-14:30 UK Time / 14:30 - 15:30 CET
Title: Transforming the supply chain on pharmaceutical products
Presenter: Ms S. C. Chiang, Hong Kong Hospital Authority
Learn the technical details about the UDI regulation from the FDA Team
See how to best utilise the Global UDI Database (GUDID) to harness the data
Understand the requirements for your automatic identification systems
Create your plan for implementation
Gain the knowledge and establish resources needed to guide your organisation