Growing business and transforming lives: a look back at our recent GS1 Healthcare achievements
We envision a harmonised implementation of global standards in business and clinical processes, enabling interoperable, high quality and efficient healthcare delivery to benefit patients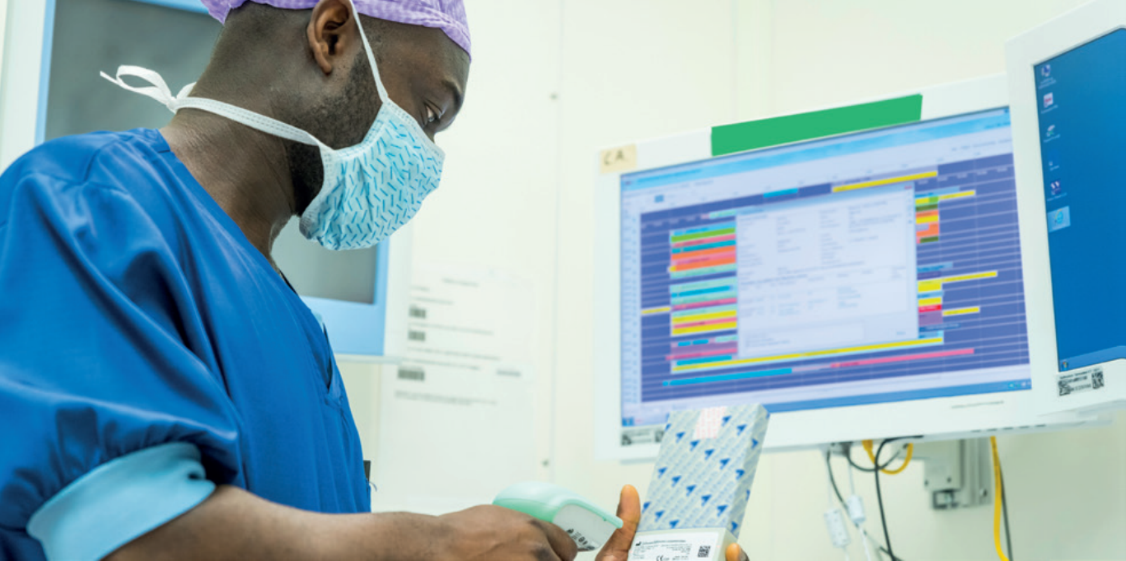 Though the COVID-19 pandemic is not yet over, the arrival of vaccines in 2021 strengthened our defences. But as the World Health Organization (WHO) and other international bodies have correctly put it: no one is safe from COVID-19 until everyone is safe. Global equity of access to vaccine doses, to emerging treatments and to personal protective equipment is critical.
Clear and reliable communication and interoperability between healthcare organisations and systems is vital to achieving that goal and supporting such interoperability is key for the GS1 Healthcare mission. In April 2022 we once again contributed to a white paper from Deloitte: "Securing trust in the global supply chain of COVID-19 vaccines: Moving from development success to vaccination." The critical role GS1 standards play in supporting the efficient and safe distribution and administration of vaccines is clearly highlighted in the document.
The need for GS1 barcodes is growing in an increasingly digitised world
Today, in more than 75 countries, GS1 barcodes play an essential role in ensuring information about all kinds of healthcare items is consistently captured and shared. With digital health on the rise and a growing number of regulations across the world enabling traceability, pharmacovigilance and post-market surveillance, the need to have a globally standardised barcode on the packaging of pharmaceuticals and medical devices will only increase. Having just one barcode on such products supports consistent identification of items, increases efficiency and improves patient safety. That's why in December 2021, GS1 Healthcare published its recommendation for the use of only ONE GS1 barcode per medical product.
In January 2022, our two-year term as the Chair of the Joint Initiative Council for Global Health Informatics Standardization (JIC) ended. In our time as Chair, we increased interest in the JIC and awareness of GS1's role in the health informatics space and of the work of the JIC with regulatory bodies and with the WHO. One of our key strategic priorities going forward is to serve as a central partner in the digital transformation of healthcare. Standards for use in clinical trials and awareness of regulatory trends remain key areas. We continued to develop and test standards for use in the clinical trials supply chain and began work on standards to identify laboratory samples and repackaged medicinal products.
Our healthcare public policy efforts remained a key focus, and over the year, we provided information to regulators to help them develop consistent requirements for tracing pharmaceutical products and combatting medication counterfeiting. Our Healthcare Public Policy Database—which provides insight into the latest regulatory requirements, agreements and requests related to healthcare product identification, catalogues and traceability—got a new design and improved features.
We also continued to support global efforts relating to Unique Device Identification (UDI): GS1 has been designated as an issuing agency for UDI in Singapore, Brazil and Egypt, in addition to remaining an issuing entity for China, Europe, Saudi Arabia, South Korea and the US. We continued to support stakeholders to ensure alignment of new UDI regulations with the global framework in Australia, Brazil, China, Egypt, Saudi Arabia, South Korea, the European Union and more. We supported regulatory authorities within the Global Harmonisation Working Party in their efforts to harmonise medical device regulations.
Forging stronger connections with healthcare providers
Our GS1 Healthcare Clinical Transformation Committee, a group of thought leaders and early adopters of GS1 standards in healthcare, now includes 11 clinicians from healthcare systems around the world. We continued our collaboration with the International Society for Quality in Healthcare (ISQua) and the International Hospital Federation (IHF). We provided a range of educational opportunities for our community, including six webinars showcasing how implementation of GS1 standards makes a difference to healthcare providers and four webinars giving examples of how solution providers are enabling their customers to use GS1 standards by supporting them as part of their healthcare IT solutions.
Africa and other emerging markets
Our support of healthcare systems in Africa and other emerging markets is another priority, and throughout the year we continued to engage with GS1 Member Organisations, regulatory authorities and solution providers in locations that have both the need and the opportunity to leverage GS1 standards as their healthcare systems evolve. At our November 2021 GS1 Healthcare Online Summit, we held a session dedicated to Africa. We also launched an Africa-specific newsletter and a customised e-learning module for that continent.
Finally, we are working to develop closer collaborations with international organisations. To that end, we worked with UNICEF, Gavi, the Vaccine Alliance, and with the Developing Countries Vaccine Manufactures Network (DCVMN) on the implementation of GS1 standards as they relate to COVID vaccines. We trained staff members of the United Nations Development Programme and built new connections with the UN's World Food Programme.
A transition in GS1 Healthcare leadership
After leading GS1 Healthcare for 17 years, Ulrike Kreysa has retired. Ulrike's profound impact on GS1 began in a meeting room in Princeton, New Jersey in May 2005, where she had gathered a dozen or so key players from across the healthcare sector. Her goal: create a healthcare user group that would work together to establish the standards that were needed for healthcare and then share how to implement them in a harmonised way.
Rich Hollander, recently retired from Pfizer, was in the room that day, and at a May 2022 virtual gathering to honour Ulrike, he summed up what happened: "We all immediately realised that this was exactly what was needed. Within a month, we were writing a mission statement and building a plan and thinking about our first global conference. And it was all because of Ulrike's leadership, Ulrike's support, Ulrike's commitment to pulling it all together and creating the right atmosphere."
Dozens of other people spoke to and of Ulrike Kreysa at that bittersweet farewell event, highlighting her warmth, her great humanity, her engagement – and the elegant Belgian chocolates she so often brought to meetings and events. But more than anything else, they spoke of Ulrike's profound belief in the role GS1 must play in ensuring patient safety, and how this guided everything she did. We thank Ulrike for her incredible contribution to Healthcare at GS1 and all around the world, and we wish her a very happy retirement.
On 1 May 2022, Géraldine Lissalde-Bonnet officially succeeded Ulrike as the Vice President of GS1 Healthcare. With ten years of GS1 behind her already, Géraldine brings her renowned professionalism, passion and knowledge to the role. Of course, the success of GS1 Healthcare is in its community, in every person around the globe who works to ensure our standards make a difference to patients worldwide.
You can read more successful stories of our work in other sectors here in the GS1 Annual Report 2021-2022.