GS1 2D barcodes gain momentum in China
The Chinese Zhejiang province (65 million inhabitants), GS1 & GS1 China signed a joint announcement for an ambitious Global Migration to 2D project
After almost fifty years transforming how we buy and sell products, retail barcodes are now evolving to respond to new business and consumer needs. This is why GS1 has launched the Global Migration to 2D initiative, leading industry sectors around the world through the transition from 1D barcodes to 2D barcodes.
1D barcodes continue to support the complexity of modern, global business, simplifying numerous supply chain processes where data flows quickly, efficiently and securely in a wide range of sectors. However, as consumers, businesses and regulators demand more and better product information, it is time to bring barcodes to the next level.
A new project by GS1 China and Zhejiang Provincial Administration for Market Regulation (abbreviated as Zhejiang AMR) will gradually implement 2D barcodes for millions of products in the Zhejiang province of China, which has a population of 65 million people. Over 7,000 food production companies will take part in this project and 200 stores of the largest merchandise retail chain in Zhejiang will undertake system upgrades to do POS checkouts with 2D barcodes.
It is expected that by the end of 2023, all products of 80% of all food companies in Zhejiang Province will have 2D barcodes printed on the package.
The signing ceremony of the 2D project announcement took place on 19 May and received extensive national and local media coverage in China, including TV, newspapers and online media.
Printing 2D barcodes on millions of products will bring numerous benefits for consumers, businesses and regulators, including giving consumers access to an unprecedented amount of information about products, facilitating efficient factory inspection, supervision of sampling results, and qualification and disinfection certificates.
"For almost five decades we've been discretely making complex things look easy for the benefit of industries, consumers and patients. Now with 2D barcodes we are ready for the next chapter, building ever closer bridges between brands, supply chain partners and consumers", said Miguel Lopera, President and CEO of GS1 at the signing ceremony of the 2D project announcement.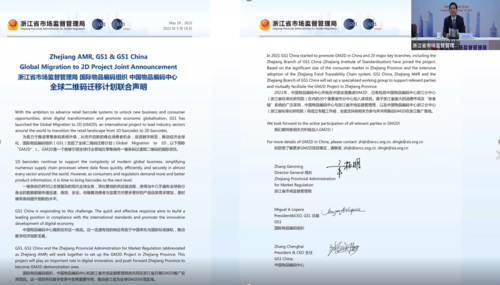 Barcodes will keep beeping at the counter, but they will also "click", helping consumers and supply chain stakeholders navigate online to receive accurate product information.
GS1 launched the Global Migration to 2D programme at the end of 2020 and over 20 countries and districts including China, US, Australia and Brazil have joined this venture. In 2021 GS1 China started to promote 2D barcodes and 20 major key branches, including the Zhejiang Branch of GS1 China (Zhejiang Institute of Standardisation) have joined the project.